Cats & Flags: A Potent Combination
T

he Internet is full of cats. One can't go anywhere without running into a feline based meme. Cats are cute, easily personified, and play to our emotions. The feline has a timeless relationship with man, and has its own prominent place in the course of history. Some cats have come to symbolize great deeds, loyalty, and honor, whilst the domestic cat has come to evoke feelings of comfort, individuality, intelligence, and vigilance. People love their cats.
Indeed, here at Historic Insights we love cats almost as much as we love flags. So much so that David wants to show you his cat... It is because of this affection towards cats that we will explore the cases in which cats have been chosen to symbolize people and ideas.

Then there are flags. Flags are the most invigorating and revealing symbols in history, no joke. Flags can literally be lens through which one studies history and politics, at least for those of us who are particularly insane. They reveal how people wish to be perceived, and come to embody the connotations of their legacy. The flag stands as one of the principle manner in which modern nations, regions, and groups of every kind choose to display their symbols, and it is through these symbols that we see what is most important to them.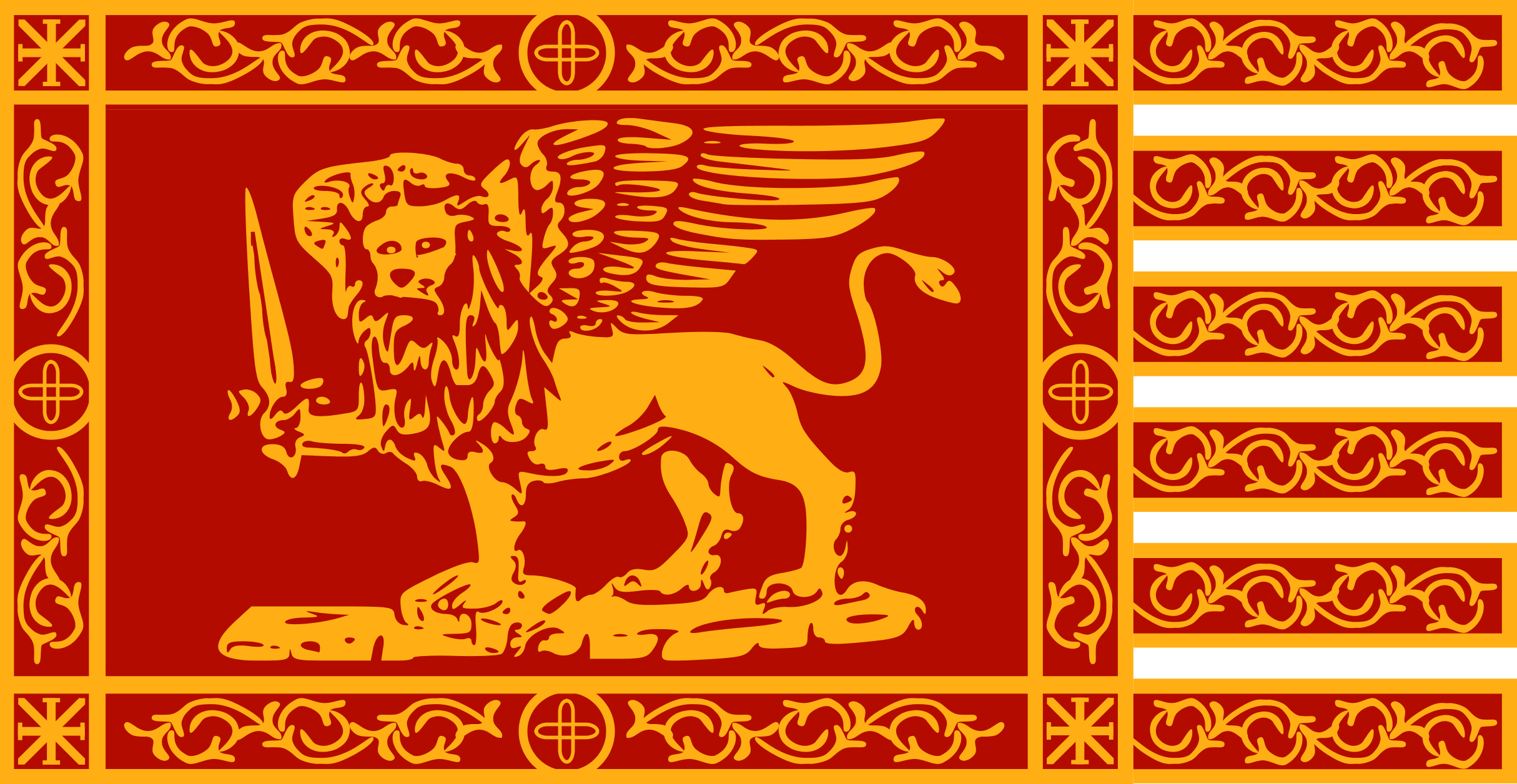 Venice's Lion of St. Mark
T

o do our duty to add even more cats to the Internet, we have prepared this treatise on domestic cats on flags. The cat has had great cultural significance to peoples all over the world for centuries. Though as the nations of the modern era formed and adopted official emblems and flags, the domestic cat was lacking in both presence and prestige. Thus, although a number of places around the globe hold the domestic cat in great esteem, only the cat's larger cousins have had the honor of gracing national colors.
The lion is emblazoned on countless flags, famously on European heraldry, from the traditional English lion passant guardant and the Scottish lion rampant to Venice's Lion of St. Mark. The tiger finds itself on a number of regional flags in Russia, and has become the symbol of strength and resistance for the Tamil Tigers. Felines make it onto the world stage, but the domestic cat is left at home, as is its way.
We have searched far and wide for cats on flags and one must go to the far reaches of obscurity to find our meowing friends.
Gata, Extremadura, Spain (Courtesy www.gata.es)
B

ehold! The sovereign banner of the City of Gata in Extremadura, Spain, a small township in one of the valleys of the Sierra de Gata. Some 1600 or so Spanish peasants labor under the fuzzy benevolence of this feline overlord. The coat of arms of this city has borne a she-cat opposite the Cross of Alc

ántara since at least the 14th century. In 1521 it is said that for their service in La Guerra de los Comuneros, an uprising of so-called commoners in Castille, King Carlos I awarded them the inscription

muy noble, muy leal, or very noble, very loyal, which continues to be used on their shield and flag today. Just saying that to note that the cat theme is separate from the inscription, although some cats can be noble and loyal if bribed I suppose. The name of the town of Gata is taken from the mountains of the Sierra de Gata, whose name origin in turn remains contested. Some have theorized it comes from a shortening of the name of the locally plentiful agate stone as is the case with Cabo de Gata in Andalusia, where agate sounds so similar to "gato," or the word for cat in Spanish, that Spaniards are compelled to name entire regions based on this obscure pun. W

hereas one local historian claims the name comes from the Kings of Leon placing effigies of lions on the mountains to denote the extremities of their Kingdom. Regardless, there is a cat on a flag, much excitement should ensue.
http://www.courfaivre.ch/
Our second furry banner comes from a similarly obscure community in Jura Canton, Switzerland, La commune mixte de Courfaivre. Situated in northwest Switzerland, the population of this area is said to be around 1600, quite similar to the population of Gata, it is safe to assume therefore that feline dictators choose to rule over no more than two thousands humans at once, lest they be noticed.
Adopted in 1945, the cat argent, sejant guardant, actually refers to the nickname of the Courfaivre villagers, Les Mergats. Which I'm sure has some hilarious story only the Swiss could endure.
Londerzeel - from http://www.crwflags.com/fotw
Thirdly we bring you gratuitous flag-based violence in the form of the flag of Londerzeel in Flemish Brabant, Belgium. The senseless gore depicted on this flag is not for the faint of heart, those easily disturbed by rodent murder should refrain from letting their eyes wander slightly to the left of this sentence. For those of you who choose to proceed:
Modern Londerzeel is comprised of three former municipalities, Londerzeel, Malderen, and Steenhuffel, combined into one. Of the flag's three stripes, the blue stripe, formerly of Steenhuffel, bears a white shield with two red lozenges. The shield is then topped with a white cat holding a mouse in its mouth, referencing its place in service in the farming community no doubt. The area continues to have a strong connection to rural life and so these symbols remain poignant mascots.
"
If every national flag are cat, world will be better!"
Albania - WorldCatFlags.com
Sadly that exhausts the flags of particular note that have cats on them. Though we have discovered that s
omeone was way ahead of us on this concept of there not being enough cats on flags. What if every flag in the world could be transformed into an inspiring ode to our feline friends? Look no further!
In their infinite wisdom, a Japanese site, WorldCatFlag.com, has made cat infused versions of every national flag. As WorldCatFlag most aptly states, "If every national flag are cat, world will be better!" A truer statement has never before been uttered in the English language. Look up the catified flag of your people and despair at its felinated glory.
Logo by Design Guru
Perhaps as we advance further into the maw of cat dominated Internet culture, we will see more cats emblazoned on our most important banners. The story of the domestic cat in heraldry, and indeed in modern logos and emblems, is a story for another day, but is an extensive one nonetheless. Here we point out that cats are important to many people, but rarely have been worthy of adorning our most sacred banners.
Be it on our flags or shields, or on brands and logos, the cat lies in wait. As cats become increasingly important and meaningful to their human underlings, there will undoubtedly be more feline symbols in our future.